Trying to buy a gift for the man who has everything can be difficult enough but what about when you're trying to find a few special gifts for his Christmas stocking? You want gifts that will be appreciated, used, enjoyed don't you? Here's our top 5 stocking fillers for the man in your life, all with a touch of Ireland.
1.Irish Cufflinks.
Cufflinks are the ultimate in sophistication and a great contemporary gift idea. The forerunner to the modern cuff link appeared in the early 1500's when prominent men began wearing their shirts with ruffed wristbands tied together with strings. Legend says that the modern cuff link was born (or at least achieved popularity) in the pages of Alexander Dumas 'The Count of Monte Cristo'. A character in the book sported enormous diamonds on his shirt cuffs that sparked great envy in everyone who looked on them. Not long after the book was published, tailors recognized how important it could be, to a "proper gentleman's" clothing. Today celebrities and businessmen alike wear cufflinks as a sign of finesse and good taste. Imagine his delight when he finds a box containing the Irish Boru Celtic warrior cufflinks in the toe of his Christmas stocking.
2. Keyring with an Irish Saying!

Perfect stocking fillers can be hard to find. These are a great budget gift ideas and a great gift from Ireland. Traditional Celtic phrases with English translations make it a fun gift for Christmas morning.
3. Classic Cars.

If the man in your life has a passion for cars and for him there are few thing better than cruising down the road in a classic car. Detailing many amazing classic cars, this beautifully illustrated book won't disappoint the young and old who share that passion !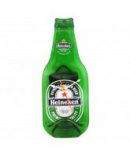 4. Heineken Bottle Clock.
Man Cave! This is an important space! Is your guy totally proud of his man cave? The man who decorates it is showing off his favourite things.Help him make it even more impressive with this Bottle clock!
5.
Irish Timeless Tweed Cap.
When you think of old world craftsmanship that you can savour in your hand and on your head.Making you look smoother and smarter!
Wishing you a very merry Christmas and hoping that your Christmas stocking will have a touch of the Irish in it.